Industrial area
Thermographic analysis inside working industrial furnaces , with specific thermal cameras for mapping temperature distribution on product lines, sediment detection;
Predictive analysis of mechanical and electrical components such as insulated furnaces, condensate drains, electrical panels, transformers, connectors;
Analysis of steam and condensate systems.
Enviromental area
Search for VOC leaks in the environment for both environmental protection and explosion safety;
Monitoring the efficiency of water distribution systems and dams, including aerial inspections using drones;
Zootechnical and veterinary inspections;
Monitoring of landfills and environments suspected of land and coastal pollution.
Civil area
Analysis and monitoring of the state of the buildings, verification of the structures before and after the improvement works with production of reports and final certification;
Thermographic inspections of plumbing systems to search for water or liquid leaks underground (leaks in public infrastructures, leaks in apartment buildings, leaks in irrigation or sewage systems).
Cabinets and electrical installations
Substations
and overhead lines
Photovoltaic installations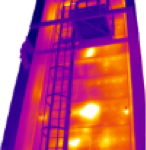 Insulation
and refractories
Optical search
for gas leaks
Air-tightness
analysis of cold rooms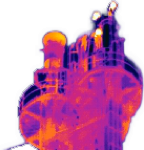 Flame checks in
refinery flares